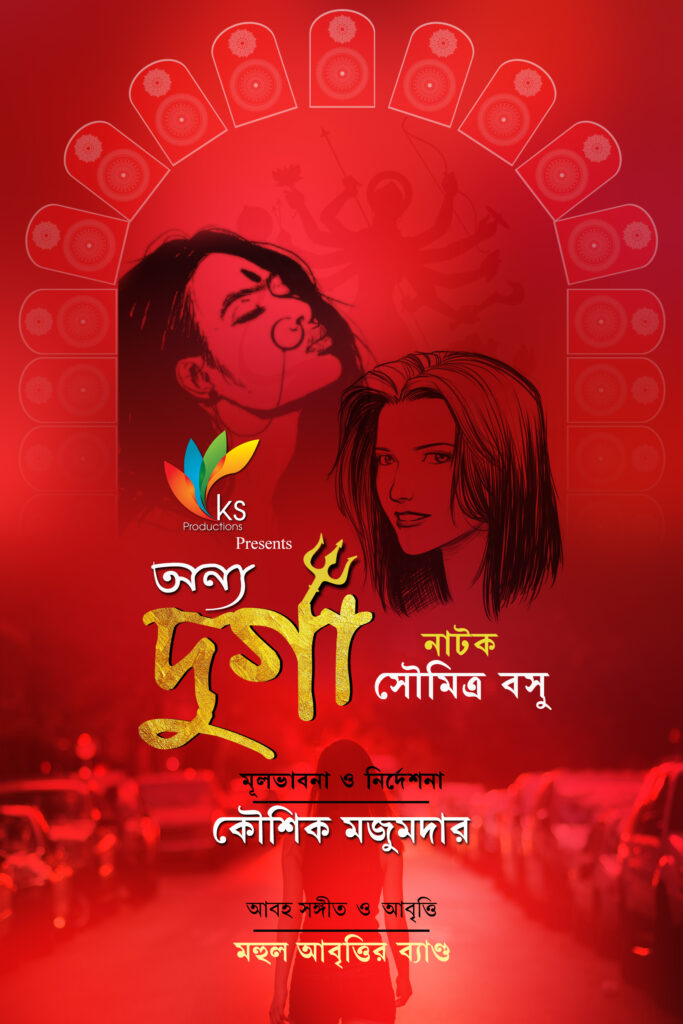 Durga, the warrior goddess of Hindu mythology, known as a protective mother as well as symbol of power who combats against evils or demonic forces that disrupt peace, prosperity and "Dharma" of good. Starting from Vedic era to modern time there are several women who are fighting their battle against numerous odds in their life who are depicted as "Onyo Durga" in this play.
Maitrayee, a very well-known character from Veda who was one of the first woman in history who challenges male-dominance and raised voices for equality. She was able to show the courage not only to question but also to convince her wise saint husband to teach her the ultimate "moksha" of the universe in pre-historic era. She chose to get enriched with the wealth of knowledge instead of material wealth.
Draupadi, wife of five Pandava's in the Hindu epic, Mahabharata. She was forced to marry five spouses against her will but no one was able to save her humiliation during the game of gambling where she was being stripped in front of all husbands which lead to the greatest war of "Kurukhestra". In her lifetime she had to face abduction and molestation several times but she fought against all those odds and set a perfect example to braveness in Hindu mythology.
"Joan-of-Arc" who also known as "The maid of Orleans" was one of the greatest female warrior of history of France. In the year 1429 when incapable French King Charles VII gave up all hopes, entire French army were demoralized and discredited. At that crucial time of French history, Joan, a simple uneducated village teenager, united all the villagers of France and became The Commander of the great battle of "The Hundred Year's War" against England. Joan led the battle from front and won it for France but she was handed over to England Army. Later she was burned live in front of public at the age of nineteen and burned her charred body twice to reduce it to ashes. It took 500 years to declare her a true martyr, a saint of France.
Sindhutai Sapkal, a small little girl from a poor uneducated family who is now known as "Mother of Orphans" in India. Her visionary father fought against her mother's wish and educated her upto 4th grade but could not defy her fate as Sindhu got married at the age of ten and became mother of three sons before she turned twenty. Sindhu was forced to leave her house due to dirty village politics while she was nine month pregnant with a baby girl. Sindhu not only fought against her fate but redefined living. While begging to raise her own daughter she started adopting more and more abandoned children and became mother of all. As of today she has adopted more than 1400 children and runs numerous orphanages.
Malala Yousafzai, youngest Nobel Prize laureate in the history born in Pakistan in 1997. Her father's humanitarian work motivated her to write blogs against Taliban at the age of eleven and her brave footstep became familiar to the entire world due to print and television media. As a reward, she was attacked with bullet at her head in 2012. After several months of battle with death she is now one of the most known women in the world and completing her bachelor's degree at Oxford.
Cast